With a blend of nutritious seeds oils and just the right amount of buttermilk, Flora Buttery is a spread that gives you and your family all the benefits of plant goodness with the taste you love. It can be used for spreading, cooking and baking and is perfect for families who prefer an alternative to butter but still fancy something scrumptious. It contains 65% less saturated fat than butter and has no artificial colors or flavors.
With a mission to help people look good, feel good and get more out of life, and a background in nutrition research, we have been at the forefront of developing margarine spreads for over 40 years.
We are passionate about delicious, plant-based foods and the health benefits they can bring to you and your family. That's why oils in Flora Spreads come from nutritious sunflower seeds and canola seeds which gives Flora spreads the taste that you love with less saturated fat than butter.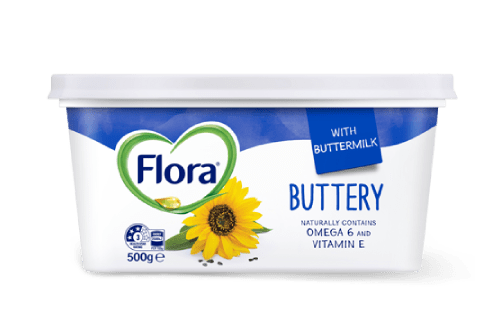 Ingredients
Vegetable oils (63%) (containing 53% Sunflower and Canola oils), water, buttermilk (milk) (8%), salt, emulsifiers (471, soy lecithin), preservative (202), food acid (lactic acid), natural flavours, vitamins (A, D), natural colour (β-carotene).