Sticky hasselback pumpkin
8 portions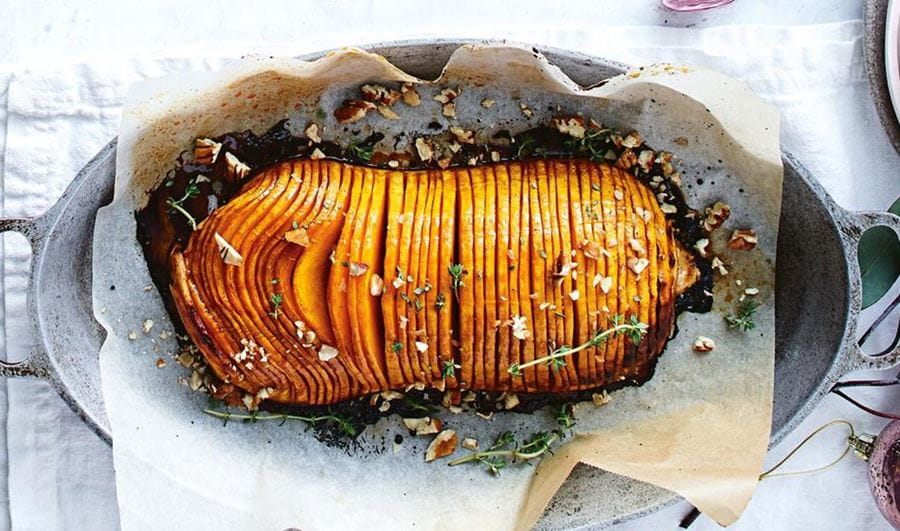 Ingredients
1 (1.6 kg) small butternut pumpkin
25 g Flora margarine melted
1/4 cup brown sugar
2 tablespoons golden syrup
1 teaspoon smoked paprika
2 teaspoons fresh thyme leaves plus extra sprigs to serve
1/4 cup pecans toasted roughly chopped
Nutritional Guidelines (per serving)
(Nutrition information is calculated using an ingredient database and should be considered an estimate.)
Instructions
Preheat oven to 200C/180C fan-forced. Line 2 baking trays with baking paper.
Peel pumpkin. Cut in half lengthways. Scoop out seeds and discard.
Place one pumpkin half, cut-side down, on a chopping board. Place a chopstick along each long side of pumpkin. Slice pumpkin thinly, cutting through to chopsticks to prevent cutting all the way through. Transfer to 1 prepared tray. Repeat with remaining pumpkin half.
Combine Flora, sugar, syrup, paprika and 1/2 the thyme in a small saucepan over medium heat. Cook, stirring, for 2 minutes or until sugar has dissolved. Brush pumpkin with 1/2 the sugar mixture. Roast, brushing twice more with remaining sugar mixture, for 40 to 45 minutes or until golden and tender. Serve sprinkled with remaining thyme and extra sprigs, and pecans.