Vegan Queso
Preparation time

30 minutes

6 portions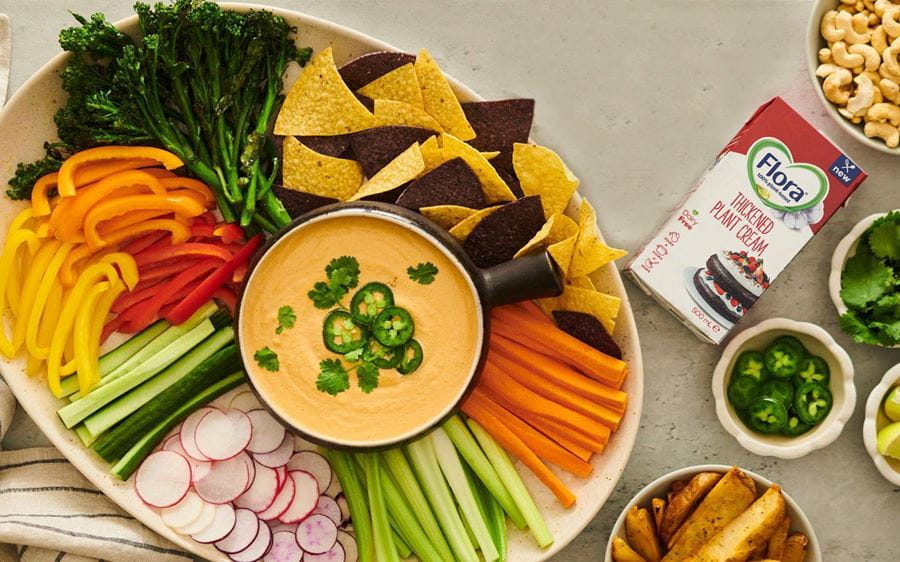 Ingredients
1 tablespoon vegan spread
1/2 cup Flora Thickened Plant Cream
1 1/2 cups raw cashews, soaked in hot water for 30 minutes and drained
1/2 cup white onion, cut into small dice
3 tablespoons canned crushed plum tomatoes
2 tablespoons nutritional yeast
2 garlic cloves
1 jalapeño
6-8 slices canned pickled jalapeño pepper slices
1-2 tablespoons fresh lime juice
1 green chili
1 tablespoon ground cumin
1 tablespoon red chili flakes
salt
For garnish:
fresh jalapeño, sliced
chopped cilantro
For serving:
corn tortilla chips
carrot sticks
celery sticks
cucumber sticks
sliced radish
colourful sweet peppers
broccolini
lime wedges
Nutritional Guidelines (per serving)
(Nutrition information is calculated using an ingredient database and should be considered an estimate.)
Instructions
In a high-speed blender or a food processor, add in all the ingredients and blend until smooth and creamy.
Adjust seasoning and consistency by adding more Flora Thickened Plant Cream or pickled jalapeno juice, as per your taste and preference.
Garnish with fresh jalapeno slices and serve with corn tortilla chips and vegetables of your choice.
Dip your chips and vegetables in this delicious and creamy vegan queso and enjoy!