Stuffed Hot Crossed Buns
Preparation time

1 hour 55 minutes

12 portions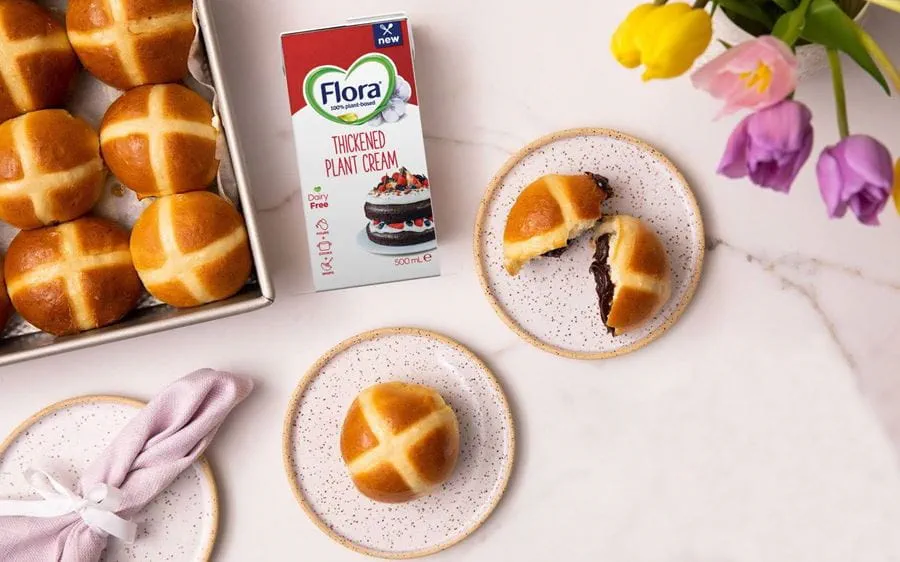 Ingredients
Dough:
3/4 cup room temperature Flora Thickened Plant Cream, warmed to about 40°C
2 1/4 teaspoons active dry yeast, or instant yeast
1 teaspoon granulated sugar
1/2 cup packed light brown sugar
5 tablespoons vegan spread (room temperature)
1/2 teaspoon vanilla extract
2 large eggs, at room temperature or flaxseed egg replacter (2 tablespoons flaxseed meal with 5 tablespoons of water)
1 teaspoon salt
1 1/2 teaspoons ground cinnamon
1 teaspoon ground nutmeg
3 1/2 plain flour or bread flour, spooned & levelled
Vegan Glaze:
2 tablespoons Flora Thickened Plant Cream
1 tablespoon maple syrup
Icing Cross:
1/2 cup icing sugar
1/4 teaspoon vanilla extract
6-8 teaspoons Flora Thickened Plant Cream
Ganache:
1 1/2 cups dark chocolate chips
1/2 cup Flora Thickened Plant Cream
Nutritional Guidelines (per serving)
(Nutrition information is calculated using an ingredient database and should be considered an estimate.)
Instructions
Whisk the Flora Thickened Plant Cream, yeast and granulated sugar together in the bowl of your stand mixer. Cover and allow the mixture to sit for about 5 minutes or until it's foamy on top. *If you do not own a mixer, you can do this in a large mixing bowl and in the next step, mix the dough together with a large wooden spoon or rubber spatula as the dough is sticky.
Add the brown sugar, spread, vanilla extract, eggs or flaxseed egg replacer, salt, cinnamon, nutmeg and 1 cup of flour. Using the dough hook or paddle attachment, mix on low speed for about 30 seconds, scrape down the sides of the bowl with a rubber spatula, then add the remaining flour. Beat on low speed until the dough comes together and pulls away from the sides of the bowl, about 2 minutes. The dough should be a little sticky but if it's too sticky and not pulling away from the sides of the bowl, mix in additional flour 1 tablespoon at a time.
Lightly grease the inside of a medium-sized bowl with oil. Remove dough from the mixer bowl and place into the oiled bowl. Cover the bowl with a tea towel and let it sit in a warm spot until it has doubled in size, about 1 hour.
Line a 23cm x 33cm pan with baking paper. Allow an overhang on each side so they can be easily removed from the pan when done.
After an hour has passed, punch the dough down and knead it for a few seconds to get rid of any air pockets.
Separate the dough into 12 equal sized pieces. Roll each piece into a ball and place each one into the baking paper-lined pan. It's okay if they're close together.
Cover with a tea towel and place in a warm area in the kitchen. Let rise for 30 minutes. Preheat the oven to 190℃.
Make the glaze: Mix the Flora Thickened Plant Cream and the maple syrup together. After the rolls have rested, using a pastry brush, brush the glaze over each bun. Bake for about 20 minutes or until they are golden brown.
Remove buns from the oven and let sit for a few minutes in the pan. Remove buns using the baking paper overhang as handles and place onto a cooling rack. The buns will have joined together while baking. Do not separate them yet.
Make the Icing Cross: Whisk together the icing sugar, vanilla and Flora Thickened Plant Cream to form the icing. Place into a piping bag with a very small round tip. Once the buns have cooled, pipe the icing onto the buns to make the crosses (3 horizontal lines and 4 vertical lines.)
Make the ganache: In a heatproof bowl over a simmering saucepan of water, combine chocolate and Flora Thickened Plant Cream and stir constantly until melted and smooth. Leave to cool.
Once the ganache has firmed up slightly, transfer it to a piping bag. Make a small hole in the side of each bun and wiggle a butter knife around inside to create a deep cavity. Fill the buns evenly with ganache. Serve immediately.