Dairy Free Apple Galette with Maple Plant Cream
Preparation time

20 minutes

6 portions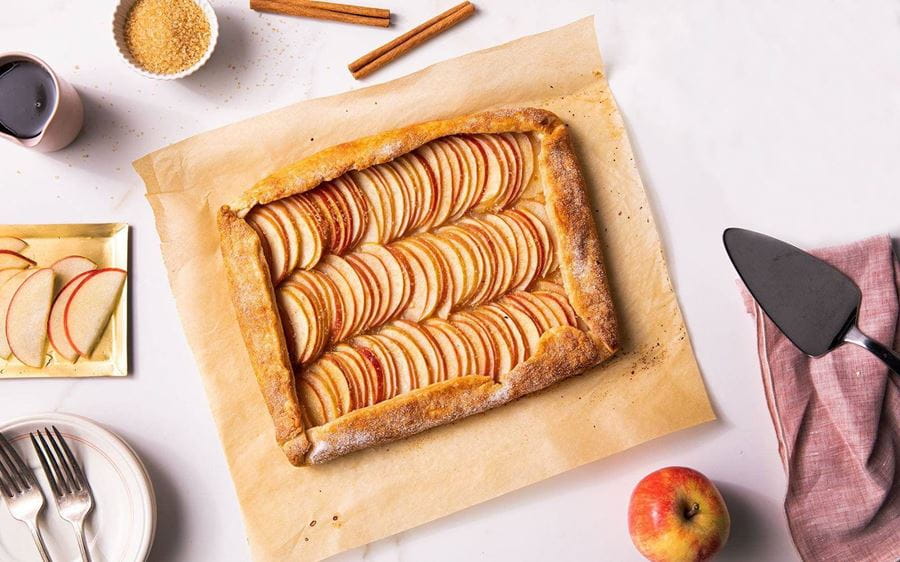 Ingredients
Pastry
1 1/2 cups plain flour
1 1/2 teaspoons caster sugar
1/4 teaspoon salt
1/2 cup vegan spread
1/3 cup ice-cold water
3 tablespoons aquafaba (liquid from the chickpea can)
1 tablespoon non-dairy milk
Topping
1/4 cup vegan spread plus 1 1/2 tablespoons
1/4 cup vegan spread plus 1 1/2 tablespoons
1 teaspoon vanilla extract
6 Pink Lady apple or royal gala apples, sliced
1 1/2 teaspoons cinnamon
30g demerara sugar
2 cups Flora Thickened Plant Cream
1 1/2 tablespoons maple syrup
Nutritional Guidelines (per serving)
(Nutrition information is calculated using an ingredient database and should be considered an estimate.)
Instructions
Preheat the oven to 190℃. In a food processor, combine the flour, sugar, salt and Flora spread. Pulse for about 5 seconds. Pour the ice water over the flour mixture and process until the pastry begins to come together. Transfer the pastry to a lightly floured surface and roll it into a rectangle, roughly 30 x 35cm. Transfer the dough onto a large parchment lined baking sheet.
For the topping, place the vegan spread in a small saucepan and add 1 teaspoon of vanilla. Cook over medium heat, stirring often, until the spread foams, then browns 5–8 minutes. Remove the pan from the heat.
Fan the sliced apples over the pastry into rows within 2.5cm of the edge. Drizzle the spread mixture over the apples. Sprinkle the cinnamon and sugar evenly over the apples and top with some spread. Fold the pastry edge up and over the apples to create a 2.5cm border.
Brush the pastry with aquafaba and then brush again with the non-dairy milk.
Beat the Flora Thickened Plant Cream in a chilled bowl until stiff peaks form. Fold in the maple syrup and set aside to serve with the galette.
Bake the galette for about 45 minutes or until the pastry is browned and all of the apples are tender. Let the galette cool. Serve warm and top with the whipped maple Plant Cream.