Dairy Free Candy Cane Dipped Box Cake Mix Cookies
Soft, chewy and dipped. These are the perfect holiday treats to bake with the kids.
Preparation time

40 minutes

24 portions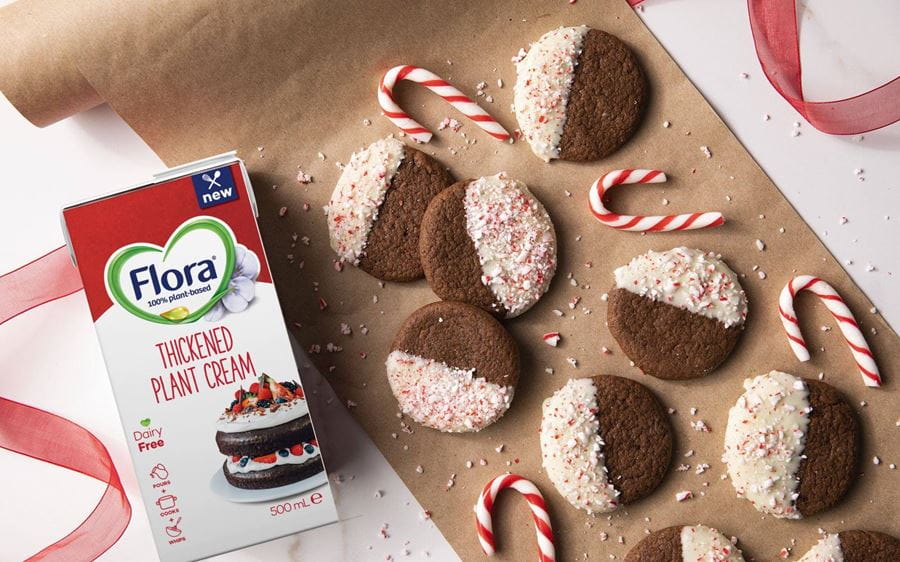 Ingredients
2 eggs (or equivalent egg replacer)
4 tablespoons Flora Thickened Plant Cream
1 box spice cake mix
3 teaspoons cinnamon
1 tablespoon molasses
1 1/2 cup white chocolate chips
1 cup crushed candy canes
Nutritional Guidelines (per serving)
(Nutrition information is calculated using an ingredient database and should be considered an estimate.)
Instructions
Preheat the oven to 180°C. Line a baking sheet with parchment paper and set aside. In a small bowl whisk together the egg or egg replacer and Flora Thickened Plant Cream.
In a large bowl, stir the cake mix, melted vegan spread, cinnamon, molasses and add the egg replacer mixture until combined. Refrigerate the dough for 30 minutes, it will make it easier to work with.
Using a medium ice cream scoop or spoon, scoop the dough onto the baking sheet and flatten each with the back of the spoon or a spatula. Bake for roughly 10 minutes, or until the cookies are set. You don't want them to brown.
Let the cookies cool for a few minutes on the baking sheet and then transfer to a cooling rack.
In a heatproof bowl set over a pan of simmering water, melt the white chocolate chips. Alternatively, you can melt the chocolate in the microwave in 15-second increments, stirring between each and watching carefully so that the chocolate doesn't burn. When the chocolate is nearly melted, remove it from the microwave and stir until smooth.
Dip one half of the cookies into the white chocolate, then immediately sprinkle with crushed candy canes while the chocolate is still wet. Transfer to a plate to let the chocolate set and Enjoy!